Perfect Speech: How to Write It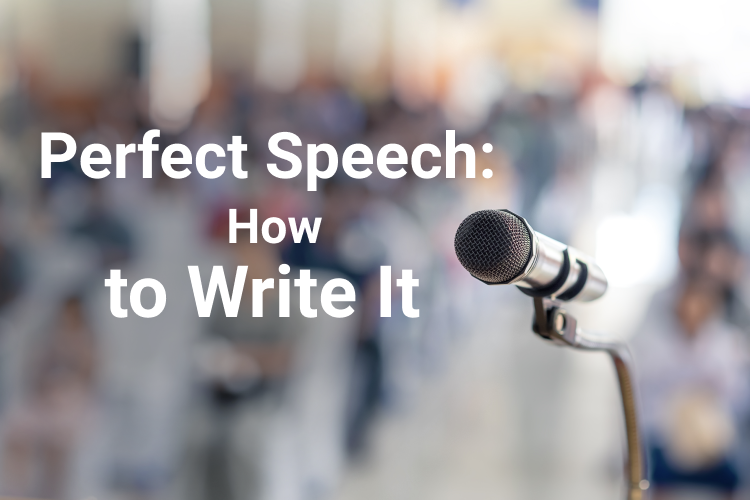 Everyone at one time or another faces the challenge of writing a text for public speaking. It can be a message for the classmates, a speech in front of an audience at university, or a lecture in front of hundreds of people in a huge auditorium. It doesn't matter how significant the event for which you want to make a speech is. You must follow valid principles that will make your presentation memorable and triumphant.
Outline your speech
Why do people face difficulties when it comes to writing a text? The fact is that they are lost in large amounts of information and cannot get their ideas in the right frame of mind. It's hard to concentrate when there's so much information around.
In order to make the process of writing a speech not so complicated, you must stick to the plan. It has a standard and even somewhat simplified structure.
Introduction.
Main body.
Conclusion.
As you can see, there is no rocket science here about the structure of the text itself, but each of these parts still has its own peculiarities that must be taken into account.
Introduction: How to bring the listeners to the attention
The outset of your speech will define its success. If you manage to draw the listener's attention to the concerned issue, they will find your talk attractive.
Target addressee: who you direct your speech to
In order to make sure you don't fail and start a successful dialogue with your listeners, you need to recognize your audience. This is not that difficult actually.
First, imagine these people sitting in front of you. Assume the average age of your addressees. If they are teenagers, you can use slang vocabulary and not expect them looking at you with a blank stare. If you are honored to speak in front of an adult audience, try not to include jokes that are hard for the adult generation to take.
Core message: what I want to say to the listener
The opening part of your speech is a kind of introduction to the topic. You cannot burden the listener with unnecessary information that should be considered in the main part. Define the objectives of your speech and then provide the main idea. If you want to touch upon several major issues, write them down starting with the most crucial information. Regardless of the number of topics you want to cover in your speech, limit your introduction to a few sentences for each topic in order to keep everyone's interest.
Let your speech hook your audience
When you know everything there is to know about your audience, it's time to think about how to make a good impression and excite them. Anything that goes beyond a long-winded narrative will be of interest to your audience.
When you write the introduction text, you need to get more creative. Why does it matter? When you first meet your listener, you often get your adrenaline going. It is coming both from your listener and you. To overcome this common problem and break the ice, you need to resort to a hook sentence.
The right jokes are always a good option, just make sure they're funny.
Starting your speech with shocking, but descriptive information can also be beneficial.
Wake up your audience and make them think from the first seconds of your speech with a call to action.
A successful start has been made, but what's next?
Deal with the subject: how to master your main body speech part
Actually, it's all based on individual choice. You can't blindly follow the instructions because when it comes to living performances, anything can go wrong. However, it never hurts to have a beforehand prepared plan with you.
How not to get confused while presenting your written speech and to convey your message to the listener?
To begin with, write down on a piece of paper the key points you want to discuss. In fact, there are never lots of them. Your whole speech will be restricted to discussing 2-3 aspects of one substantial problem. Don't try to cover the full range of issues related to this case. It is better to have a profound understanding of fewer issues than to review the case only superficially.
Once you have identified the topics for a discussion, select the appropriate arguments to confirm your point of view. Do not neglect such a simple step. You will have to invest your time to think through your speech now, but you will be much more confident during the actual presentation.
Reasoning does not mean you have to present solely some hard facts. You can supplement the arguments with such detailed and accurate data, but do not overload your speech with dry material.
Also, make sure that your speech matches your target audience's level of awareness. Describe the situations with some expressive examples, but make sure these are relevant to your audience's area of interest. This way, they can visualize these examples and apply to their own experience.
For example, if you are going to speak to students and tell them about the climate change issue, keep it simple. Do not go into the problems of the Central Asian climate change unless you live in Central Asia. Tell them how their own region suffers from climate change.
When the basic information has been highlighted, can you finally exhale and take a break? Absolutely not!
Step it up: a good conclusion takes efforts
You may think that all the material is set out, so it's in the bag. However, it's a misleading statement. In the beginning, you present your topic to people, then you touch upon the main points in more depths, and what result do you end up with?
What facets should you carefully register in your speech in order for the conclusion to be blooming?
1. Once again, restate your thesis to remind the listener where you started.
2. Run through the main points you dealt with in your speech and briefly mention the most convincing arguments.
3. Analyze the whole speech and draw conclusions.
4. Make a call to action, point out examples of simple steps so that anyone can join the issue you have illustrated after listening to your speech.
In fact, the final part plays a crucial role in your speech, so it should always be memorable. Try to get your main message through to the end and make your listeners be influenced by the importance of your words.
Written and Spoken languages differ drastically
It is much easier to write about a dilemma than to communicate it with the listener, and this should also be taken into account. How to present a written speech so that you can be listened to?
1. Make your sentences shorter. In fact, you can write a text using complex constructions, but when presenting a speech, avoid this kind of redundant information. This way you are being listened to, and therefore, the audience follows your thoughts. It will be much easier for the listener to grasp the meaning of what is being said if you present it in short and straightforward sentences.
2. Use of the applicable vocabulary.
Do not bandy about your words, treat them responsibly, because when you make a mistake, you will not be able to cross out the word and write the correct one over it. Choose an appropriate vocabulary based on the type of event and your own feelings.
3. Transition words must be present in your speech.
In addition to that.
More than that.
Besides.
Furthermore.
What's more.
Into the bargain.
Write these words and short expressions a piece of paper, and when you need to make a transition between topics or fill the dead air, make use of them.
4. Leading points must be repeated several times, but should be introduced naturally into your speech flow. By repeating the statement numerous times, you will be able to draw the audience's attention to this aspect and make them subconsciously remember the main message of the speech.
5. Giving a speech is not only a written word but also a body language and intonation you provide your information with. Watch your body's position as well as the tone of your voice. Do not let your speech be monotonous and boring. Make it expressive and theatrical.
6. Rehearsals will help you manage with giving a speech. When you have the text ready, you have to test it. First, read the speech you have written and then analyze how consistent it is. Also, be sure to check the text for grammatical or lexical errors. When you are sure that the text you have written is thoughtful and of high quality, you are ready to shine.
Get more info from our insights!
At Paytowritepaper, our main objective is to provide a high-quality assistance for academic assignment of any complexity. Except of writing help, we also share guides to different tasks and other information about student's lifestyles. Check the recommendations and reach our writers if you need any kind of writing assistance!
Get started