How to Write an Autobiography as Personal Statement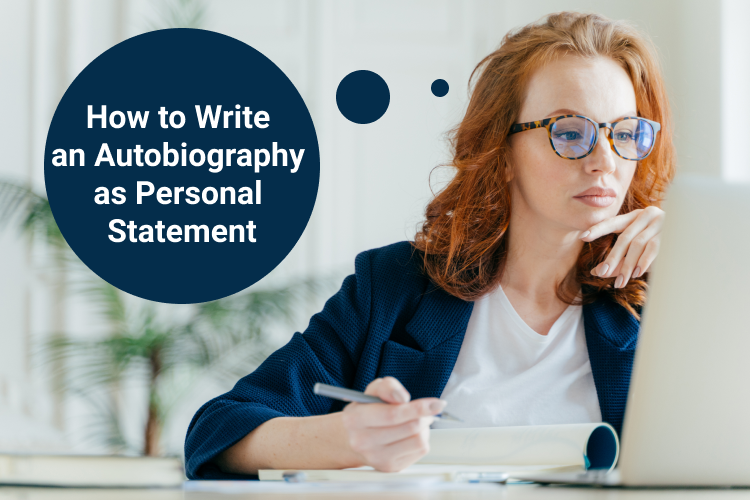 When you are a student, you constantly receive various tasks in writing academic papers. One of them is to write an autobiography. This assignment is one that puzzles the students most.
Autobiography is a story of someone's life They think that autobiographies are the stories of outstanding people, not average students. They should be books, or at least large articles with thorough investigation and exploring the achievements. An average student rarely possesses great accomplishments worth sharing with the public – at least, many students think so because they are very modest.
Why Would You Need Writing an Autobiography in College?
There are reasons why teachers assign the work to write an autobiography to their students in high school and college.
The main factor that means is that an autobiographical essay is a required paper for the college application, and also it is very often demanded the job application. Both the admission committees and potential employers want to gather as much information as possible about the personality of a candidate in advance before deciding whether to invite them to the next stage.
An autobiographical essay may include information which would be unsuitable for the CV or resume standard form, and make for the personal statement.
There is one more thing: writing an autobiography in college is a challenging task which makes the learning process more exciting. And it helps to develop your writing skills too where it concerns emotional aspects and creating a multi-dimensional character – yourself in your work.
Thus, a student should know how to write an autobiography correctly, as it is a necessary skill, and your education of the future career can depend on how well you can do it.
The good news is that due to the common nature of this task it has already been performed hundreds of thousands of times. We know about the standards of this paper, what you need to include in it, and how exactly you should write it to meet your purposes.
Preparations for Writing an Autobiography
An autobiography is another essay, and every student made a lot of essays. Besides, this one won't require spending hours in the library or searching the Web for the new information on the topic. You already have the subject where no one can outperform you – your life, your experience, and your character. Moreover, you might perform similar tasks in the past. For instance, autobiographical moments present in the Coalition Essays prompts for the college appliers. However, it should not be a problem for you even if you never wrote such papers.
Similar to your preparations with other essay types, you need to run research before you start to write an autobiography. The text will be focused on your personality and life experience, and you already possess the necessary knowledge and memories. The question is how to present them in that personal statement essay.
Tips on finding the focus of the autobiographical essay
Define your audience. Depending on who will read your autobiographical essay, you might need to stress different aspects. If you write an autobiography for a class, then your teacher would probably explain what exactly they want to get in that paper. If this paper is a part of the general package to apply to a college, you might do a little investigation about what they want from their candidate, and which personality traits they value most. The same goes for the job application. Just keep in mind that they receive tons of such documents regularly, and you need to make the notice yours. So, you will need to mark those qualities you possess which make you remarkable and definitely deserves the chance.
Consider your subject. Though an autobiography is a story of your life, it is not necessary to retell all your life in the paper. Choose some real stories and impressive events that can display different sides of your personality and illustrate your abilities. There are evident choices to tell about some achievements you are proud of, especially when you reached the purpose by overcoming difficulties. It would also be a good idea to include a story of failure in the autobiographical essay. The way you survive the failure is great evidence of your personal development. Besides, telling about both highs and lows will help to present yourself as a personality.
Understand the main purpose of your autobiographical essay. You want to present yourself to other people, and you would also want to impress them. Or, maybe you want to give some lessons, or just let them have some fun by providing them with an interesting and catchy piece of reading. In any case, you need to know how you can make your personal life story important to other people. This way you will choose the best arguments and predict the effect they may make.
Compose a storyline of your life. Write down the most important events which are associated with the brightest emotions in your mind. When you write an autobiography, you should not be afraid of emotional feelings, though, of course, you need to keep the balance and don't make your essay too excited.
You can refer to the following ideas to pick the best examples from your experience up:
Which events brought you the brightest emotional experience in your life?
Is there any personal story that you would like to tell? How can it impress the audience?
What achievements you have now, and which one of them is your biggest personal victory?
How can you illustrate your personal features with real-life examples?
How exactly did you come to this point where you are writing an autobiography as a college task?
Which people and events influenced your personality and character development most of all during your life?
What are your strongest memories from childhood and being a teenager?
If you are a graduate now, what were the main lessons which the college life gave you?
It is great if you can pick some really outstanding stories to include in your autobiography. On another hand, it is not obligatory to win the Olympics to compose a good story about that victory. Even the most average things in daily life can grasp the audience when you present them properly.
Exploit brainstorming methods. Just write down all the ideas which come to your mind. Then read the list and concentrate on those topics which excite you. Emotions will be the key to write your autobiography: if you feel them, then you can share them.
Tips on making an outline of the work
This is the aspect that you need to take into consideration: an autobiographical essay is still an essay, which means it must follow the traditional "three-part" structure with the Introduction, the Body, and the Conclusion. They will have their peculiarities in contents due to the aim to represent your personality. You will need to apply more creative writing techniques to write an autobiography vividly. However, first of all, you need to consider your three-parts structure and decide what you will dedicate them to.
Composing a brief outline is a very efficient method in this case.
Choose the main purposes of the work: how exactly are you going to present yourself? What are your main traits which you would like to stress? Maybe your ability to overcome difficulties? Or your kindness? Or a sense of humor? As you already decided what you target towards, you can think of the best means to reach that target.
Make a list of the points which you would like to include in your autobiography. They should support your presentation of your personal qualities.
Pick some interesting or exciting examples from your experience, add some speculations or opinions about the events or things that happened to you. This will be a kind of an equivalent of the traditional thesis statement.
Find the balance between the positive and negative in the story. It is natural to try to cast yourself in a positive light, but you should not afraid of being not perfect. You can reveal some failures and mistakes. The main issue is that you can admit having made a mistake, fix it and learn from it.
Examine logical connections between these pieces. Make sure that the causes and consequences are obvious, and that a reader who is not familiar with the circumstances will understand the things correctly.
Look for good transitions that will make your narrative smooth and logical.
The Process of Writing an Autobiography
Many people consider that autobiography must cover everything starting from the birthday or at least early childhood. You can choose the direct chronological order and retell the story of your life in detail. However, it is not necessary. You can concentrate on a couple of important things that you believe helped you to become a better person. Also, you can include some pieces describing the events where you did not participate personally. For example, there can be family legends about your parents. It will show your roots and understand your personality better.
Have a look at the following tips on the writing process, you may find some of them useful:
Write in the first person.
Don't just list the events, it will make your story look very stiff and boring. It is unacceptable even for the scientific essay, where the audience is mot interested in your thoughts that in the facts listed. As for the autobiography, you have to present yourself as an interesting person.
Invite the reader right into the story from the very beginning. Start the autobiography with a catchy fragment – you will need to pay attention to the word choice.
However, don't use citations – they represent other people, while you need to represent yourself. You can make an exclusion if some citation has a special meaning for you, and you can tell a really good story about that.
Make your story realistic with the help of details.
Dedicate separate paragraphs to the new ideas. Avoid too large paragraphs and too complicated sentences. A clear and concise layout makes the text easier to read and understand.
Think about using literacy techniques like flashbacks.
Don't use rare and sophisticated words. They can only make it more difficult for the audience to grasp your story. However, you should not be banal and primitive with the overused words. Explore casual language style with the more flexible vocabulary that lets you give a bright and memorable picture.
By all means, re-read your text to find and correct grammar and punctuation issues.
Even if you are not a world champion or a prodigy, you are a unique personality, and you can present yourself in this way. The above-mentioned recommendations are the techniques to help you with this. And a task to write an autobiography is not a problem, but a great chance to let the people discover something new about you.
Get more info from our insights!
At Paytowritepaper, our main objective is to provide a high-quality assistance for academic assignment of any complexity. Except of writing help, we also share guides to different tasks and other information about student's lifestyles. Check the recommendations and reach our writers if you need any kind of writing assistance!
Get started